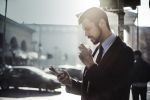 Smart Digital Parking Solution
DCA and Rockhampton Regional Council formed a partnership to bring in the next generation of technology to help overcome local parking challenges, with a specific view to decreasing vehicle overstays and congestion.
Read More
ePermits
DCA's ePermits permit issuing technology replaces the need for paper based permits for parking and other services. Our fully automated, highly customisable solution has been developed to meet the real-world needs of councils, universities and transport authorities where the complexity and rules based issuing of permits and bay reservations has become increasingly challenging and costly to administer.
Download
PayStay makes life easier for everyone
PayStay is Australia's leading pay-by-phone application and its success can be attributed to its ease of use.
Download
PayStay
PayStay is community centric smartphone application that allows drivers to search parking availability by time restriction, price and location and digitally pay for their parking. PayStay also guides users to vacant parking spaces using their smartphone's mapping system
Download