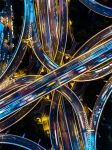 Parking & City Services
Get the help you need to implement and process Smart City mobility solutions.
DCA is one of Australia's leading providers of personnel services and technology solutions to help councils manage city and parking resources. Our City and Parking Services reduces personnel and administrative tasks for our clients, increases revenue through streamlined management and is designed to increase parking equity and availability for the community.
Infringement Management
Make technology work harder for your team. Infringement Management as a Service, or IMaaS, is a compliance management technology solution that delivers end-to-end processing of infringements. This is a fully integrated modular software package that smoothly processes parking and other local law infringements.