Resource Downloads
Take your Salesforce data migration knowledge further with these actionable resources.
Book your free consultation.
We hope you enjoyed the webinar! Fill out this form for a free session with a DCA Salesforce.org migration expert, covering:
Data quality audit
National Change of Address report
Developing a donor data roadmap
Identifying migration challenges
Best Practice Worksheet
Download this worksheet to help you plan the next steps in your Salesforce.org data migration, with high-level guidance on the three key steps to reducing interruption to BAU and achieving ROI sooner.
– Essential data cleansing
– Testing and quality assurance
– Futureproofing supporter data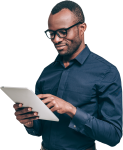 Fundraising data partner
The DCA team have worked with fundraisers for over 20 years, and our team understands the unique challenges faced by industry professionals. Our solutions scale to suit fundraisers of all sizes, enabling data-driven success across all facets of your organisation. DCA are also proud to be a Fundraising Institute of Australia (FIA) National Sponsor and an adherent to the FIA Code of Conduct. Talk to us about your data needs today
"Interactions with DCA have always been really positive and professional, and the individuals we've had involved have set the standard for customer care. DCA know what they're doing."
David Overend
CIO Oxfam Australia