2019 ResearchMaster Award for Excellence
2019 ATEM/Campus Morning Mail Best Practice Awards
Congratulations Victoria University Melbourne
The 2019 ResearchMaster Award for Excellence in Research Management was awarded to the VU Model Strategy Team, Victoria University.
The independent judging panel honoured the VU Research Strategy as a wonderful example of a customised transformative and innovation solution that is delivering impressive results and high impact.
Donna Hannan, Director of Research Services and Dr Andrew Gaff, Deputy Director – Research Partnerships, accepted the award on behalf of VU team, with Ms Hannan acknowledging VU as a "very brave and bold institution that is focussed on changing itself completely to better serve it's students and community."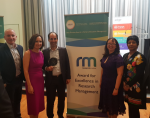 The 8th ATEM/ Campus Review Best Practice Award Ceremony was held on Monday 30th September at the Ellington in Adelaide, in conjunction with the TEM Conference.
ResearchMaster congratulates Victoria University Melbourne on their success.
More information about the awards go to: www.atem.org.au/awards/best-practice-awards