FIA Data Week 2021
Access the event handouts and contact key partners.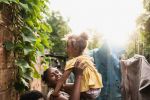 CRM Success Checklist
The "Ten Steps to CRM Success" webinar guided attendees through one of the most significant and challenging projects a fundraisers can face – a CRM migration or consolidation. This checklist distils our speakers' best tips and most actionable insights into an easy-to-follow resource you can leverage to avoid common pitfalls, future-proof your systems, and achieve ROI sooner.
Qualifying Questions for Major Projects
Our "Real Stories of CEO Influence" webinar addressed how to ensure your senior stakeholders are on board with and committed to even your most ambitious transformation initiatives. Answering the 10 questions in this worksheet as part of your business case for any major project will help you influence key stakeholders and ensure your project first gets over the line and then succeeds.
Data Privacy Whitepaper
Meeting legislative requirements and supporter expectations for privacy and data is an increasingly complex challenge for Australian fundraisers. The "Maintaining Supporter Trust in the Digital Age with Best-Practice Data Privacy" whitepaper was created from insights generated during our "Is Your Data Safe?" roundtable to guide fundraisers through today's privacy challenges.
Download the Content Pack
By opting in to marketing when you download this content pack, relevant personal information will be added to the DCA database and shared with event partner AlphaSys. DCA and AlphaSys will handle your data in accordance with the Australian Privacy Principles (APPs) contained in the Privacy Act (Cwlth) 1988. DCA and AlphaSys may contact you via phone, SMS, email, or direct mail following your opt-in to offer you products and/or services we or they believe may interest you. You can opt out of receiving further marketing communications at any time by following the unsubscribe instructions included in any marketing communication you receive.

<
Connect with DCA and AlphaSys
With nearly three decades' experience, DCA Data Services are leaders in donor data migration, consolidation, and quality supporter targeting in Australia and New Zealand. Our business is built on having the best people, systems, and solutions on hand for our fundraisers of all sizes. Our clients rely on our data, technology and expertise to drive organisational transformation, make business-critical decisions, and deliver better fundraising outcomes.
Contact DCA
AlphaSys partners with non-profit, educational and membership organisations, helping them achieve a greater impact on their cause. We provide business and end-to-end technology solutions that deliver sustainable change for social good. Our deep industry knowledge and customer-centric approach has seen us recognised as a Salesforce Non-Profit Expert Navigator and Salesforce Non-Profit Partner of the Year 2021. 
Contact AlphaSys